Rapture #217: More Contagion Issues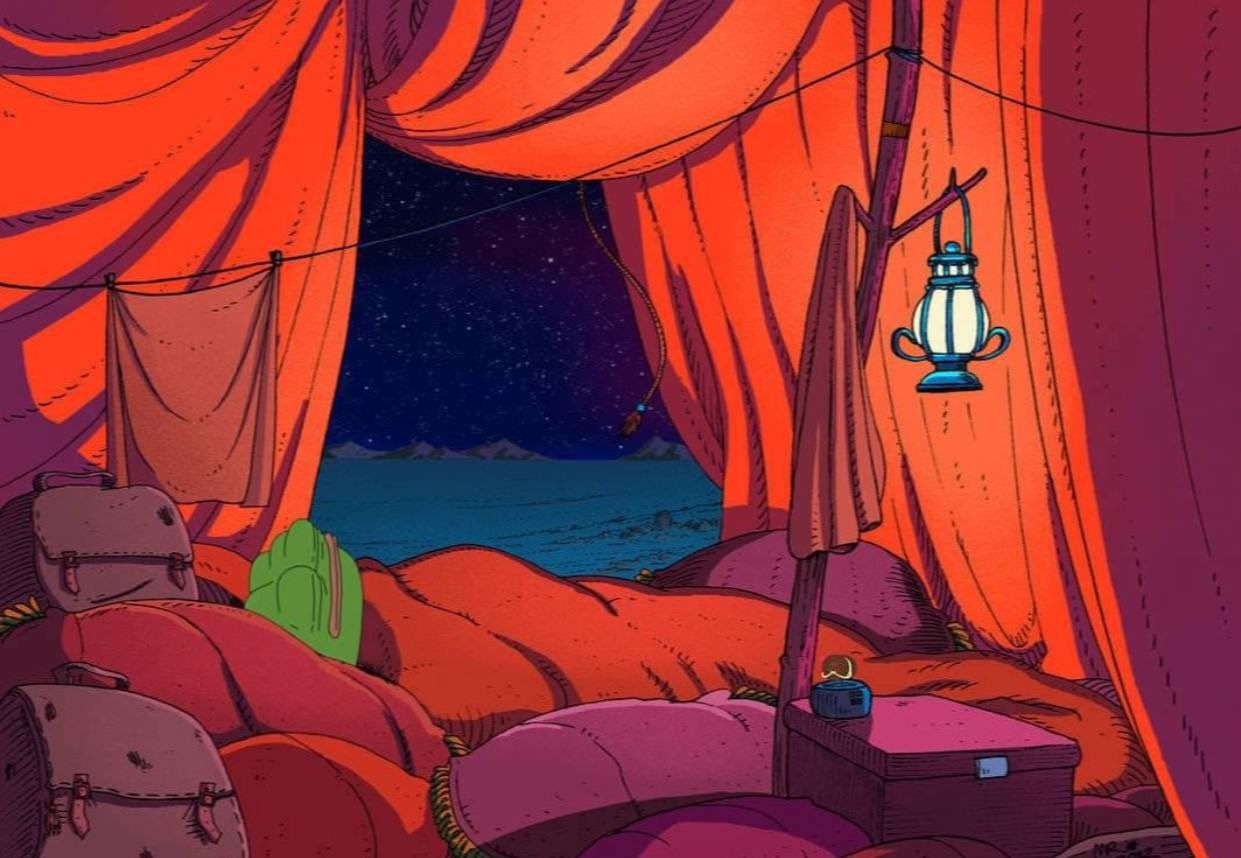 Unfortunately, I do not think the daisy-chain blow up of leverage in crypto is over. While SBF has been swooping in to save crypto companies on the brink of collapse, likely with devil's bargains, even the current king of crypto himself might not be able prevent the implosion of some of the largest crypto institutions.
Specifically, both leading centralized lender BlockFi and one of the top crypto exchanges/brokerage firms Voyager Digital are on the ropes.
Let's examine their current problems.
BlockFi
Documents were recently leaked of BlockFi's Series F preferred financing on May 21st. This round of financing gave BlockFi at least $35 million and up to $85 million of fresh funds and valued the company at $1 billion on a fully diluted basis, which is significantly lower than their previous valuation of $3 billion.
In addition to the amount given for financing, some projections for BlockFi were also leaked on Twitter: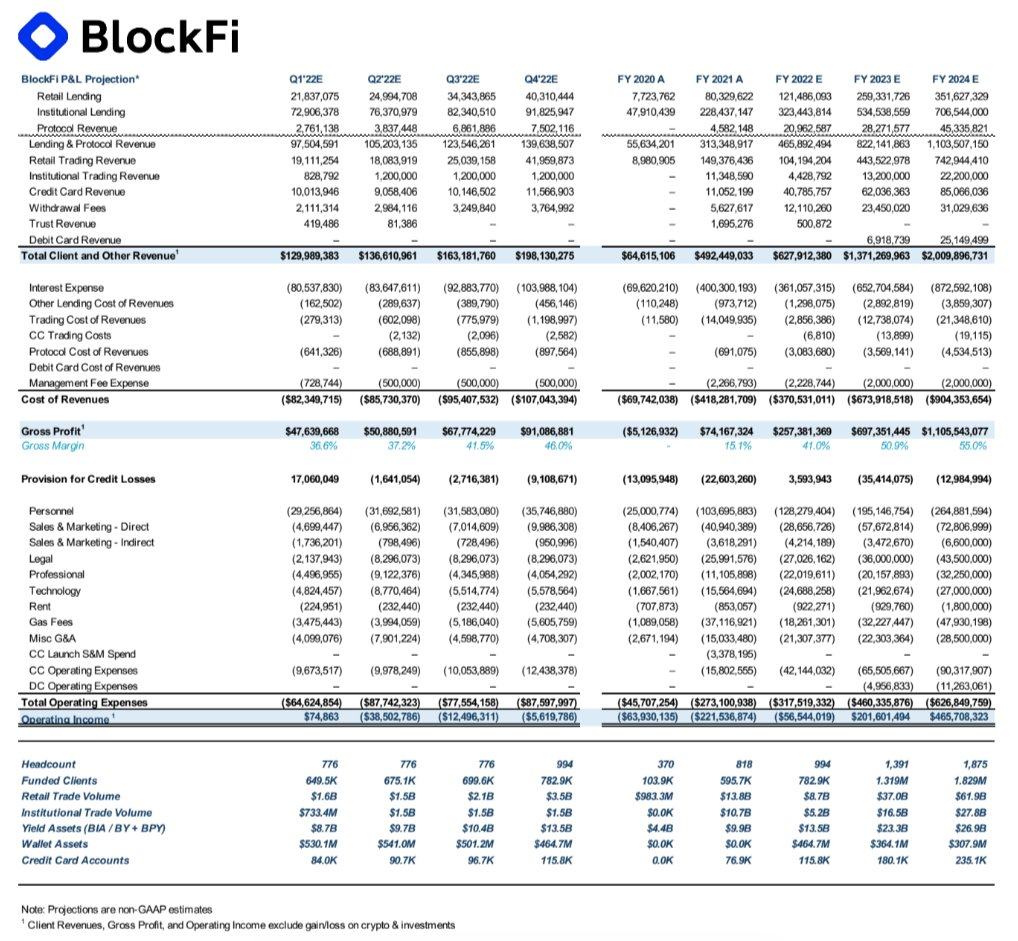 Despite the bull market in 2020 and 2021, BlockFi actually had substantially negative numbers of operating income during those years. Hence, BlockFi could not even make money in the bull market, before liquidations started occurring left and right. The financial health of BlockFi will likely deteriorate in this bearish environment.
Now that we are in a bear market and so many of the largest funds who are likely borrowers on BlockFi are experiencing serious distress, the provision for credit losses being actually positive like their estimates show for FY 2022 expectations seems absurely optimistic.
More trouble likely ahead for BlockFi. I don't think the bridge financing of $35 - 85 million will be enough to prevent further issues. SBF came in with a $250 million in financing on June 21st, which could be enough to save the company. While the financial information above does not provide line items like cash on the balance sheet, if the provision for credit losses swells while operating expenses are not dramatically cut, not even the $250 million in financing will be able to save BlockFi.
Furthermore, if everyone withdraws their money from BlockFi in anticipation of their failure, the company is toast.
Voyager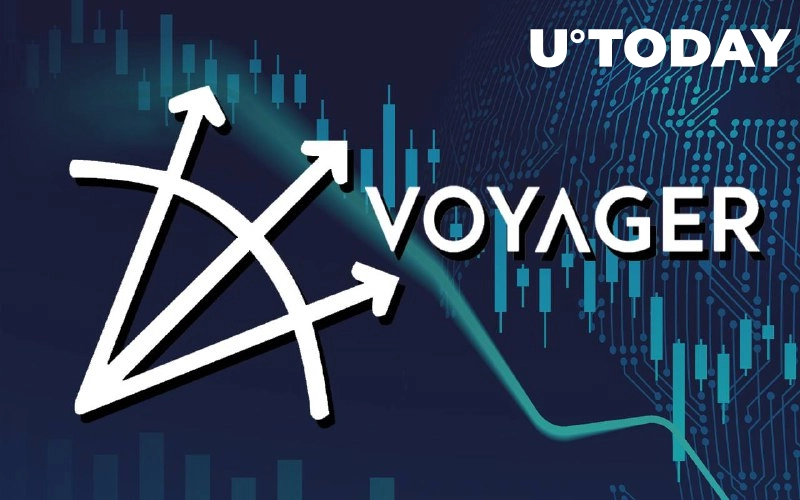 Over the past few days, the market has learned that Voyager Digital, a leading crypto exchange and brokerage firm, had $655 million exposure to Three Arrows Capital. Voyager's stock is down more than 53% today on the news. Like BlockFi, Voyager has now entered into a debt deal with SBF, this time via Alameda, for a $200 million cash and USDC revolver plus a 15,000 BTC revolver. Voyager currently has $152 million of cash and crypto assets on hand as well.
Still, the cash infusion from SBF plus the $152 million of cash and owned crypto assets puts Voyager's assets only equals approximately $652 million, which does not even cover their exposure to the Three Arrows Capital loss. Furthermore, the crypto balances could be completely illiquid.
If users opt to en masse withdraw their capital from Voyager, I do not think the company can survive even with the bridge financing from Alameda.
More to come?
We are still really only a few weeks into the daisy-chain liquidation event and we do not know if there are more dominos to fall. While SBF and co have temporarily provided relief to leading companies like BockFi and Voyager, these deals by no means guarantee that the companies are saved. In fact, in my opinion, if the markets continue to sour, these bridge deals will not be enough.
There is only so much one man can do. I personally do not think it will be enough and there is serious risk in there being more pain to come. We are at an extremely precarious juncture in the market.
Disclaimer:
The Content on this email is for informational purposes only, you should not construe any such information or other material as legal, tax, investment, financial, or other advice. Nothing contained on this site constitutes a solicitation, recommendation, endorsement, or offer by Rapture Associates or Mattison Asher or any third party service provider to buy or sell any securities or other financial instruments in this or in in any other jurisdiction in which such solicitation or offer would be unlawful under the securities laws of such jurisdiction.
All Content on this site is information of a general nature and does not address the circumstances of any particular individual or entity. Nothing in the Site constitutes professional and/or financial advice, nor does any information on the Site constitute a comprehensive or complete statement of the matters discussed or the law relating thereto. You alone assume the sole responsibility of evaluating the merits and risks associated with the use of any information or other Content on the Site before making any decisions based on such information or other Content. In exchange for using the Site, you agree not to hold Rapture Associates, Mattison Asher, and  its affiliates or any third party service provider liable for any possible claim for damages arising from any decision you make based on information or other Content made available to you through the Site.