Rapture #201: Coinbase Q1 2022 Earnings Report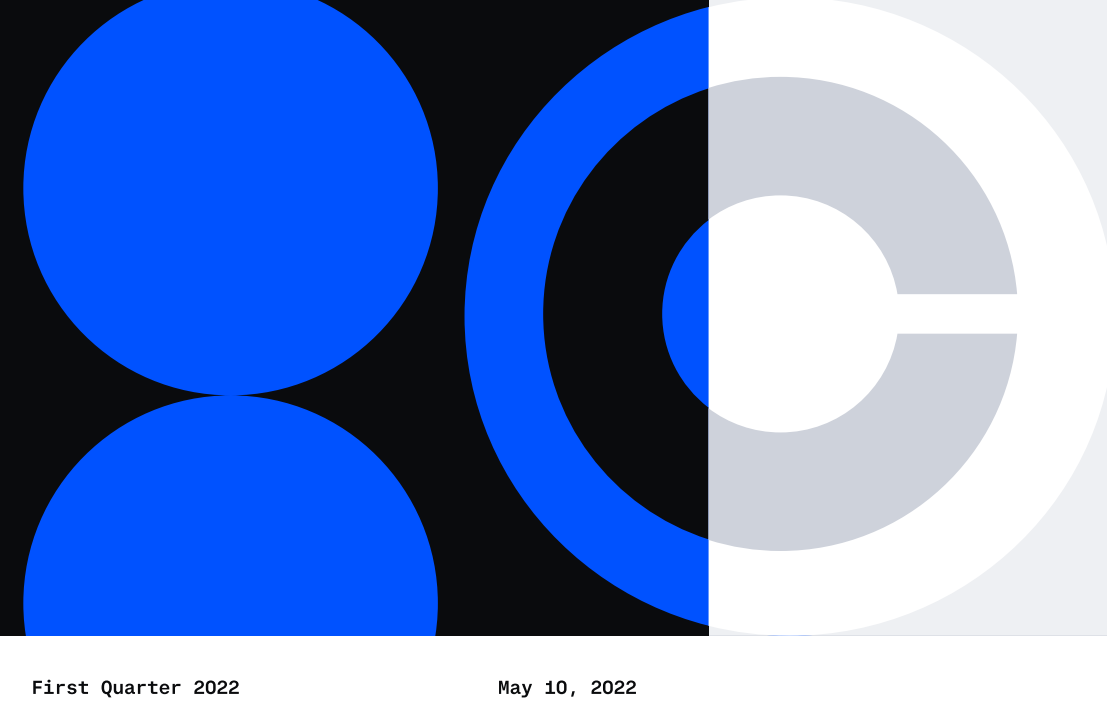 If you were looking for hope in Coinbase's earnings report to assuage you of any bearish sentiment, you assuredly did not find it. While I think Coinbase is ridiculously undervalued at this point (P/E ratio of 5.7), their quarterly earnings were still quite underwhelming.
I am not the only one who was disappointed, as COIN is down more than 15% in after hours trading.
Let's dive into some of the details.
Trading volumes crater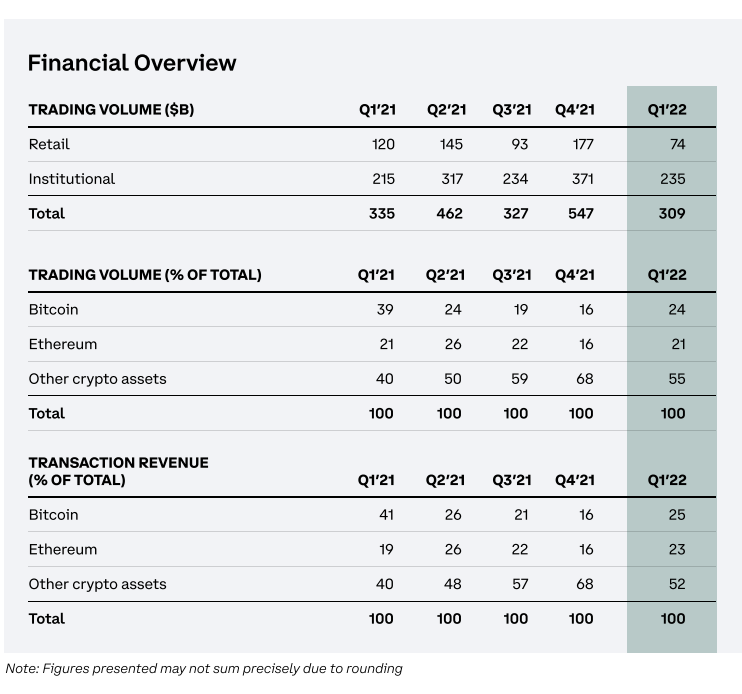 The bread and butter of Coinbase's business is facilitating markets for crypto, and that is where the core problems in their earnings part can be found.
Trading volume dropped to $309 billion for Q1 2022, which is a approximately a 44% drop from Q4 2021. Furthermore, trading volumes were lower in Q1 2022 than any other quarter last year. Yikes.
While institutional trading volumes (incredibly loosely defined) fell from $547 billion in Q4 2021 to $235 billion in Q1 2022, retail volume plummeted from $177 in Q4 2021 to $74 billion in Q1 2022. Clearly, these numbers tell us that retail has cooled on the crypto market. I pointed out this waning retail interest in Rapture #146: Crypto Sentiment is Cooling on February 21st by analyzing sentiment data, and Coinbase's numbers further confirm my thesis.
Net revenue falls alongside volumes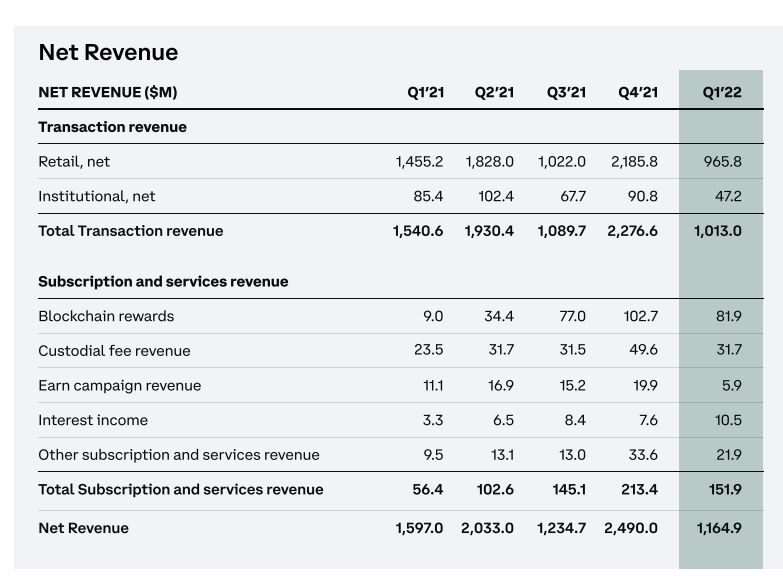 Unsurprisingly, the drop in trading volumes led to a dramatic fall in net revenue. Net revenue for Q1 2022 was $1.2 billion, which is a 53% drop from Q4 2021. Like trading volumes in general, Coinbase's net revenue for Q1 2022 was lower than any quarter in 2021.
Revenue across all of Coinbase's other major business lines (blockchain rewards, custodial fee revenue, etc.) also dropped significantly quarter over quarter.
Expenses rise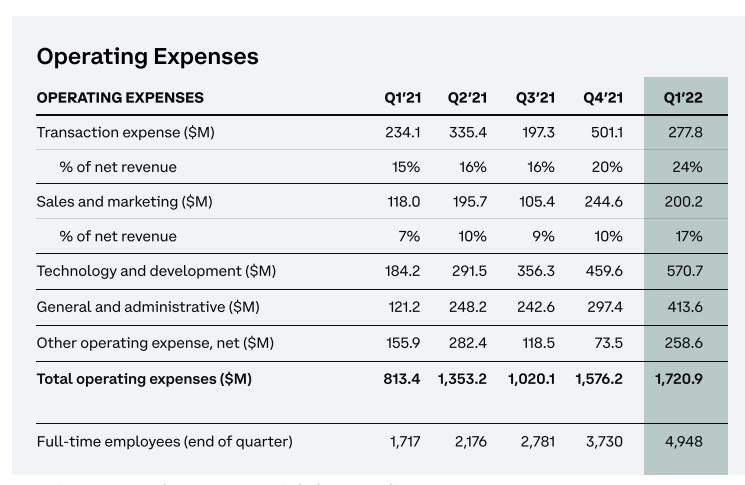 Despite the fall in revenue, Coinbase continued to go on a hiring spree during Q4 2021, increasing headcount from 3,730 nearly 33% to 4,948. This increase in headcount was one of the contributing factor to Coinbase's expenses reaching more than $1.7 billion, an increase of 9.1% from around $1.6 billion in Q4 2021. Additionally, Coinbase saw their technology and development expenses swell to $570.7 million from $459.6 million.
Other operating expenses rocketed from $73.5 million in Q4 2021 to $258.6 million in Q1 2022, an increase of 252%. This increase largely stems from the crypto asset impairment charges on Coinbase's digital assets.
I imagine a large portion of those technology and development expenses went to the launch of their new NFT platform, which has drastically underperformed expectations. In fact, their NFT platform currently only generates about $40,000 worth of volume per day.
Takeaways
Overall, Coinbase had a net loss of $430 million on the quarter, which was below market expectations.
Undoubtedly, Coinbase's filing indicates that we are in a bear market. Volumes overall have dried up and interest in crypto is low.
That being said, Coinbase ended Q1 with $6.1 billion in cash and equivalents, meaning the company is well capitalized to survive.  
Disclaimer:
The Content on this email is for informational purposes only, you should not construe any such information or other material as legal, tax, investment, financial, or other advice. Nothing contained on this site constitutes a solicitation, recommendation, endorsement, or offer by Rapture Associates or Mattison Asher or any third party service provider to buy or sell any securities or other financial instruments in this or in in any other jurisdiction in which such solicitation or offer would be unlawful under the securities laws of such jurisdiction.
All Content on this site is information of a general nature and does not address the circumstances of any particular individual or entity. Nothing in the Site constitutes professional and/or financial advice, nor does any information on the Site constitute a comprehensive or complete statement of the matters discussed or the law relating thereto. You alone assume the sole responsibility of evaluating the merits and risks associated with the use of any information or other Content on the Site before making any decisions based on such information or other Content. In exchange for using the Site, you agree not to hold Rapture Associates, Mattison Asher, and  its affiliates or any third party service provider liable for any possible claim for damages arising from any decision you make based on information or other Content made available to you through the Site.