Rapture #185: February Financial Reports for Aave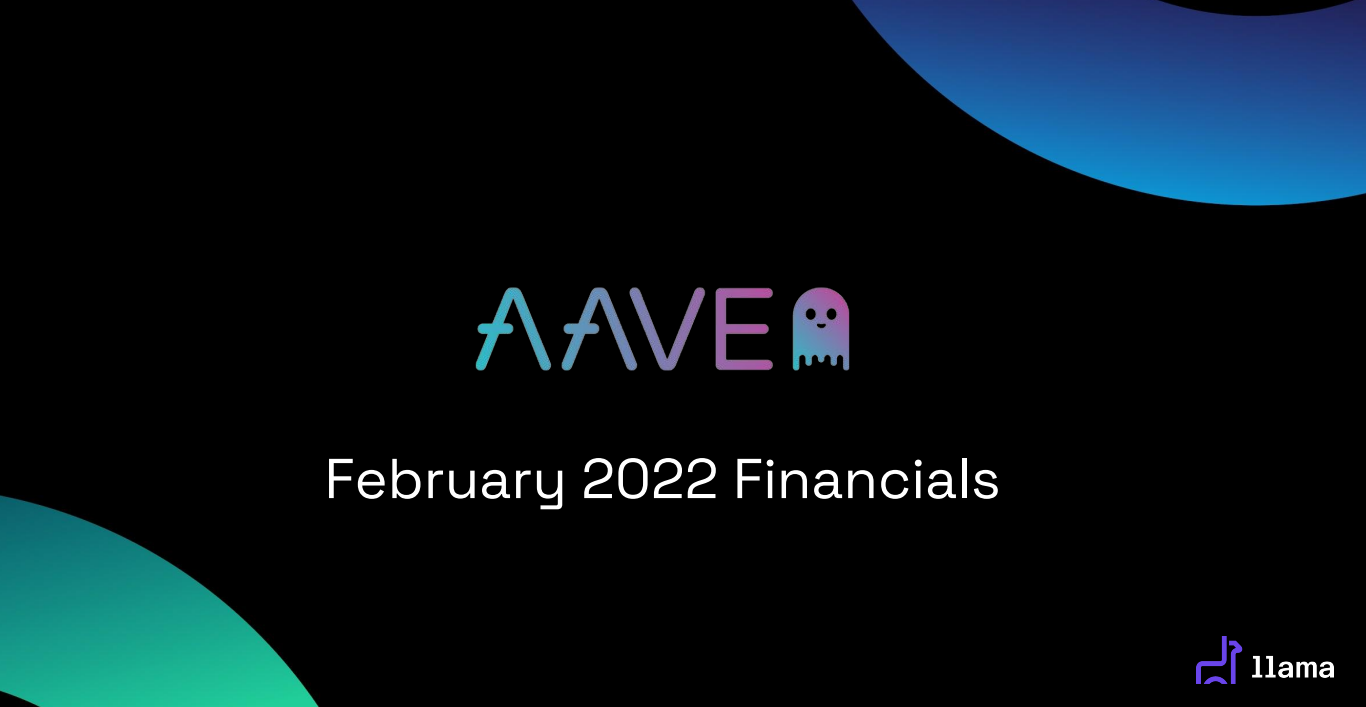 Recently, Llama, a DAO service provider focused on treasury management, released their February 2022 financials for Aave. Soon, they will also be compiling a quarterly report for Aave's financials.
This report largely covers the Aave market reserve, which comprises a portion of Aave's treasury. Aave's reserve was initially seeded with 3 million AAVE, and the reserve can be utilized to incentivize Aave ecosystem growth/development. Furthermore, Aave sets a reserve factor for each asset's lending market on the protocol. The reserve factor allocates a share of the protocol's interests to a collector contract as reserve for the ecosystem. This reserve was new to V2, and is used to sustain the DAO and pay protocol contributors.
Effectively, the reserve factor allows for Aave's treasury to grow as more revenue is generated from taking a share of the interest generated. This reserve is also used as a safety backstop if Aave is ever to experience liquidity issues, meaning that the reserve would be utilized in the case of mass insolvency across the network.
Lets dive into how Aave's reserve changed in February.
Revenue flowing into reserve decreases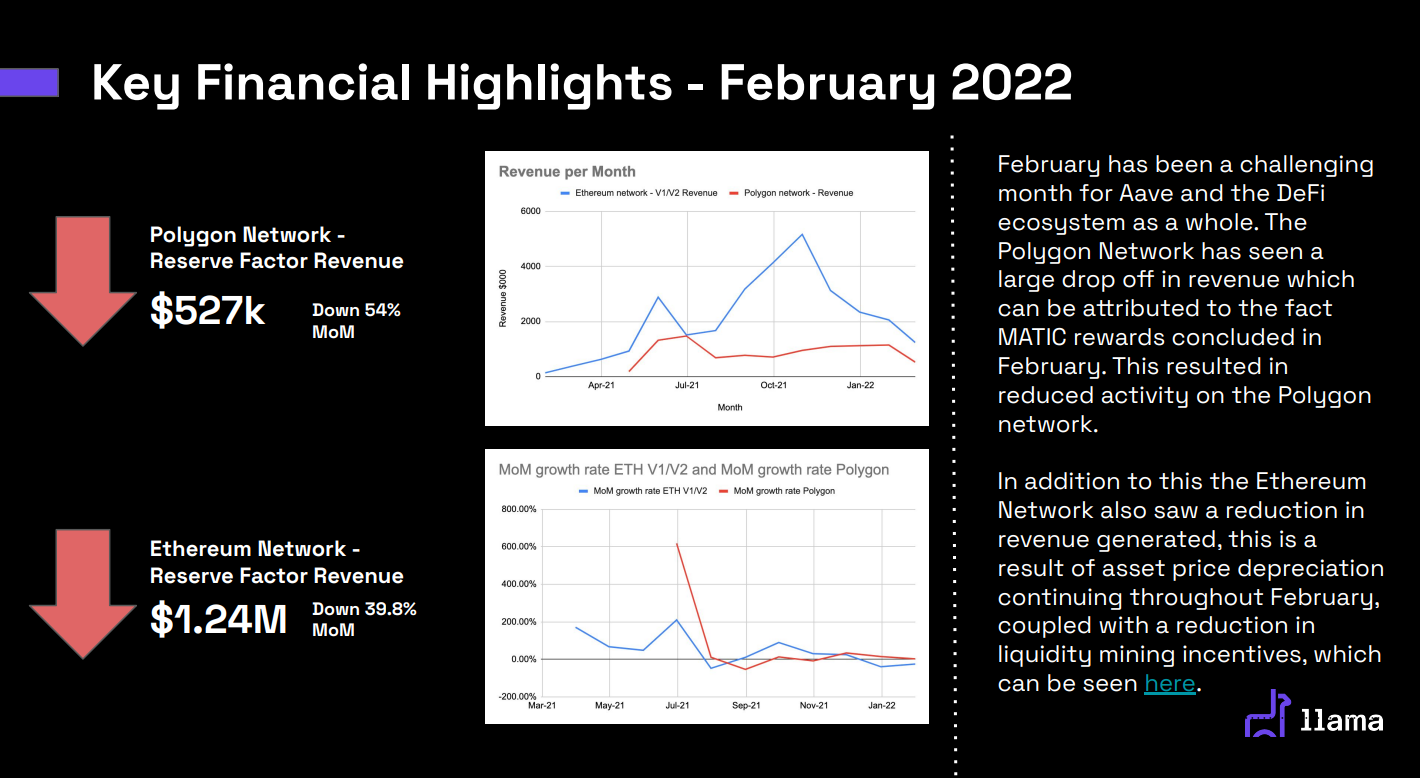 Reserve factor revenue for Aave was down more than 40% for the month of February, dropping to $700,000 for the month. This decrease can be attributed to the conclusion of MATIC rewards that previously incentivized utility on Polygon and a bearish market environment. Since Aave's revenue is largely cyclical and tied to the greater market conditions, when crypto prices turn south, there is less demand for Aave. Another contributing factor to reserve revenue decreasing was a reduction in liquidity mining rewards.
Losing revenue in these market conditions should not be surprising, but a more than 40% drop month over month displays just how important liquidity mining rewards are for user retention. Since liquidity mining is not a sustainable growth strategy, Aave will clearly need to find new ways to retain users.
Ecosystem reserve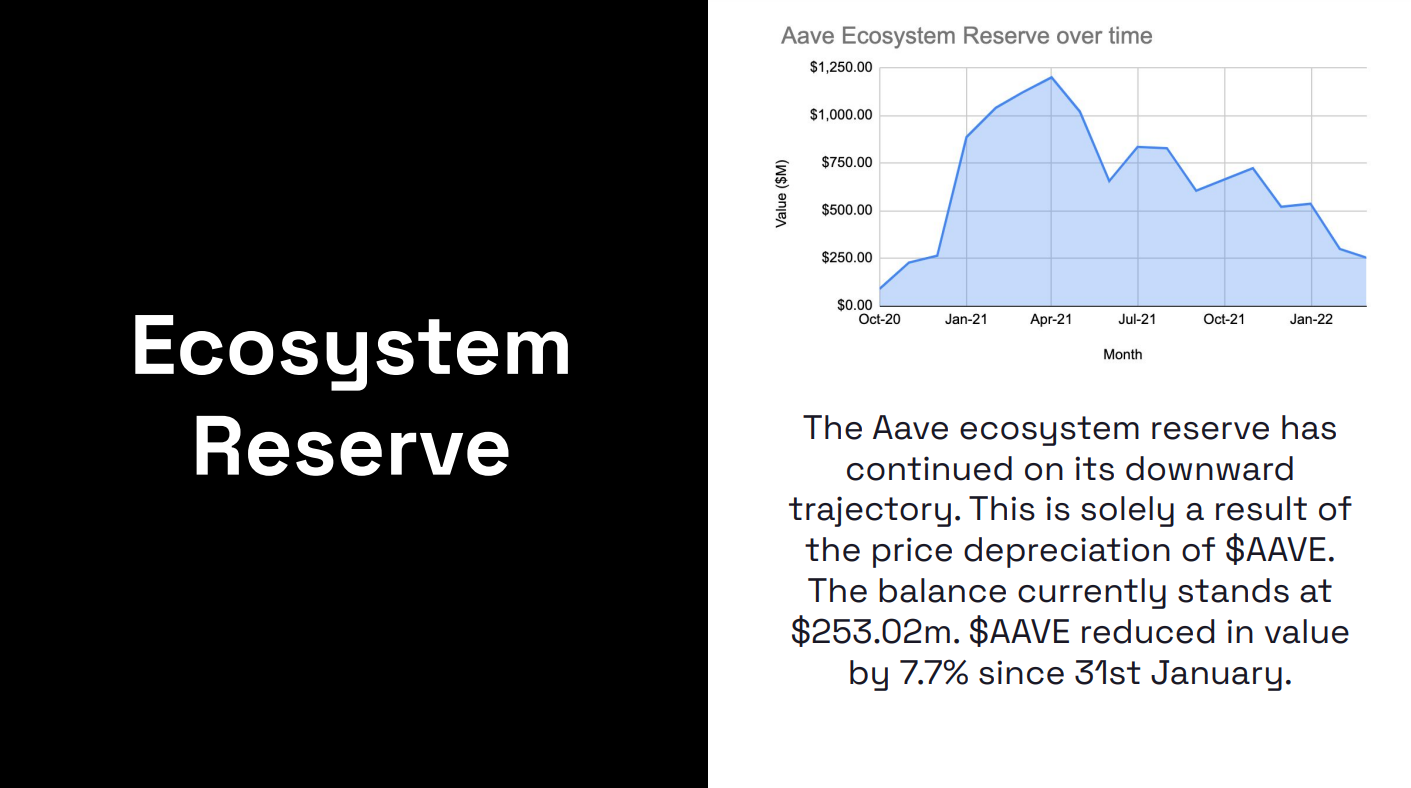 Like revenue, the value of the Aave's treasury overall dropped precipitously in February. In fact, Aave's ecosystem reserve (aka its treasury) lost more than 50% for the first 2 months of 2022. The drop in Aave for February contributed to the loss of value in the Aave reserve, and currently the reserve stands at $253.02 million dollars.
Like many other projects, Aave's overall treasury is predominantly comprised of its native token AAVE, which stands at more than 93% of the treasury.
Eventually, these DAOs are going to need to learn about diversification! That being said, diversifying would put massive selling pressure on their native asset, which is the biggest reason they likely do not diversify.
Market reserve composition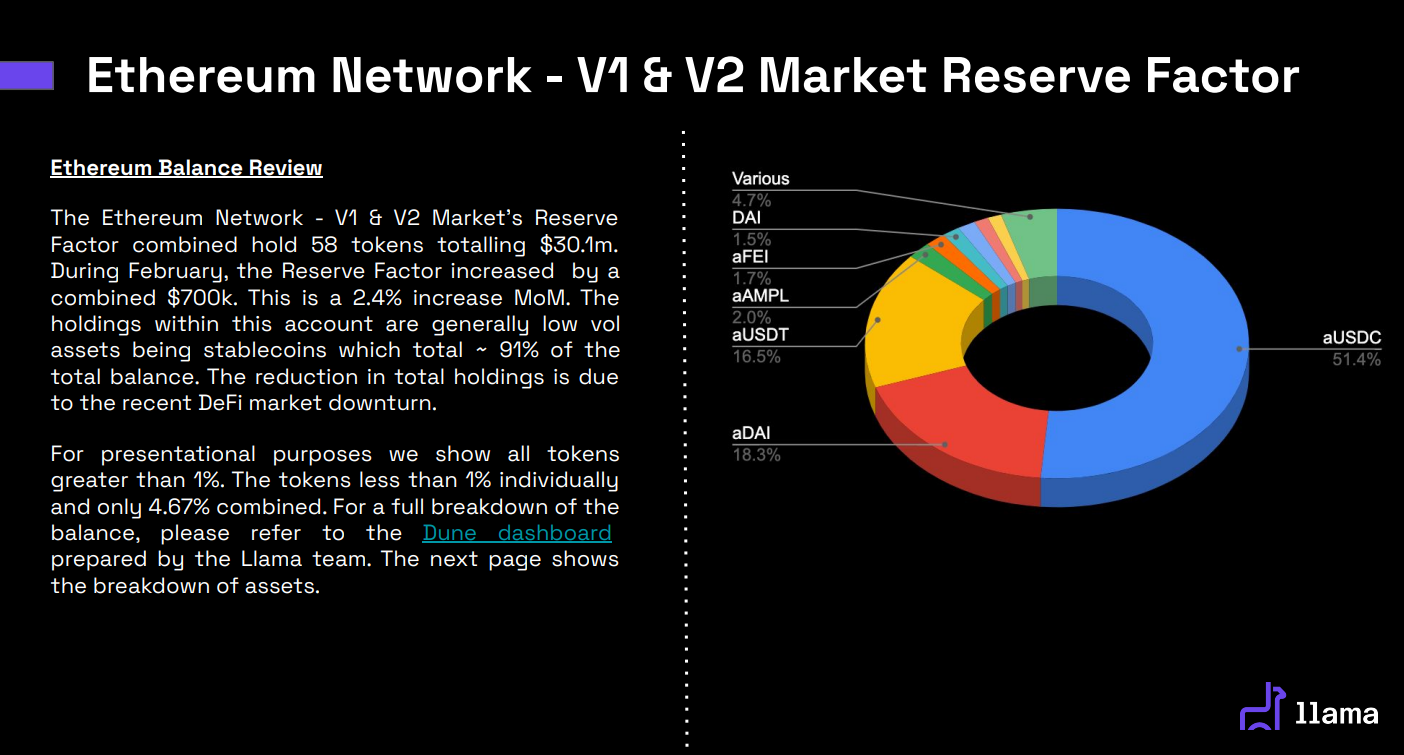 Currently, nearly all of Aave's Ethereum based market reserve (91%) is comprised of stablecoins. The current Ethereum market reserve stands at $30.1 million.
Interestingly, Aave's Polygon based market reserve is a bit more diverse, as only 77.9% is stablecoin assets. The total value of Aave's Polygon market reserve is $10.2 million.
In my opinion, it seems that the market reserve factors across Aave, which stand at approximately a combined $40.3 million, could be much higher for safety reasons, considering the TVL off Aave is more than $14.31 billion.
The backstop will do little to stop a liquidity crisis should a black swan event ensue.
Disclaimer:
The Content on this email is for informational purposes only, you should not construe any such information or other material as legal, tax, investment, financial, or other advice. Nothing contained on this site constitutes a solicitation, recommendation, endorsement, or offer by Rapture Associates or Mattison Asher or any third party service provider to buy or sell any securities or other financial instruments in this or in in any other jurisdiction in which such solicitation or offer would be unlawful under the securities laws of such jurisdiction.
All Content on this site is information of a general nature and does not address the circumstances of any particular individual or entity. Nothing in the Site constitutes professional and/or financial advice, nor does any information on the Site constitute a comprehensive or complete statement of the matters discussed or the law relating thereto. You alone assume the sole responsibility of evaluating the merits and risks associated with the use of any information or other Content on the Site before making any decisions based on such information or other Content. In exchange for using the Site, you agree not to hold Rapture Associates, Mattison Asher, and  its affiliates or any third party service provider liable for any possible claim for damages arising from any decision you make based on information or other Content made available to you through the Site.