Rapture #151: Coinbase Surpasses Expectations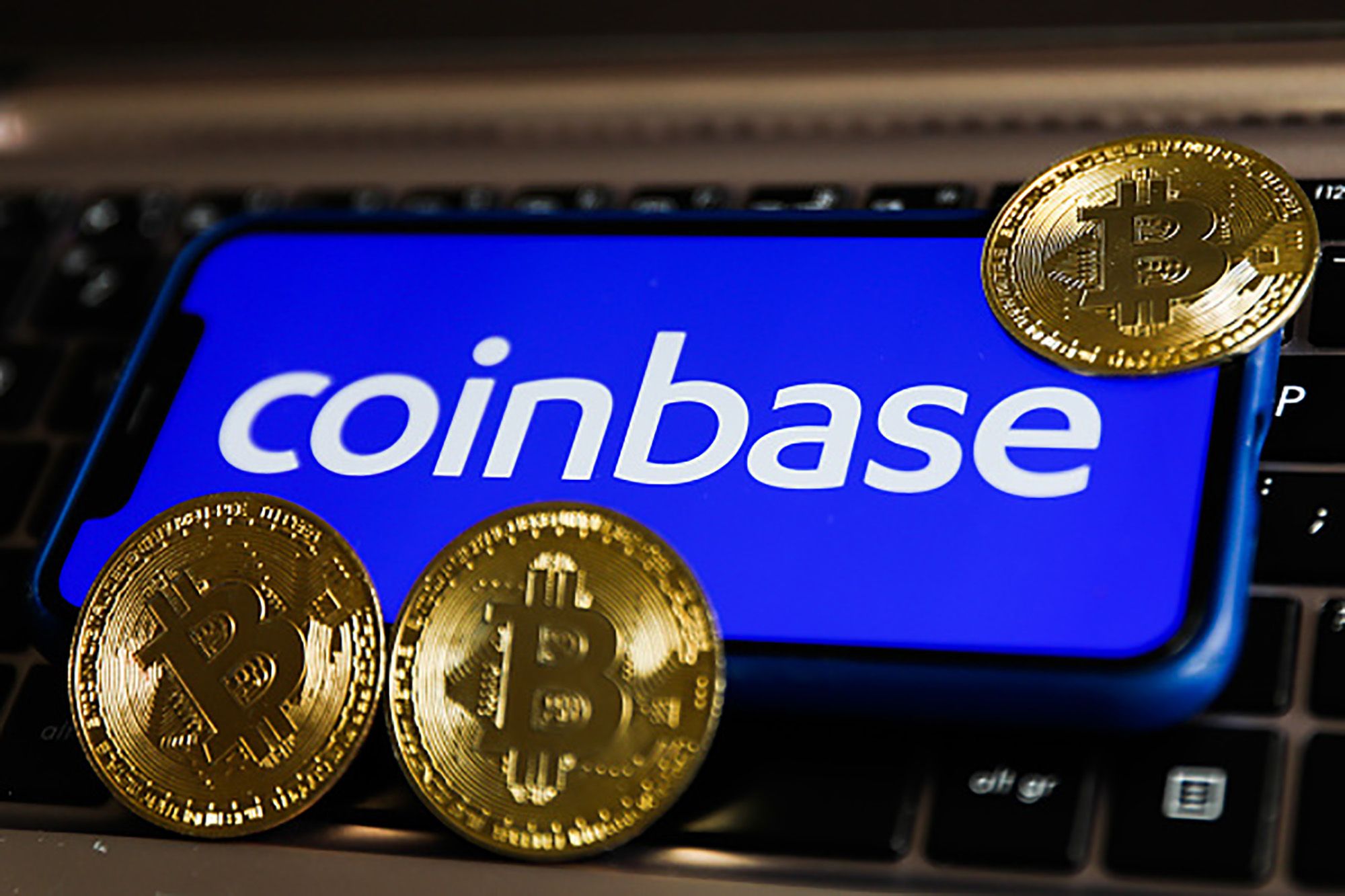 By nearly all metrics, Coinbase had a solid 4Q 2021. Monthly transacting users, trading volumes, revenue, and platform assets all dramatically increase in the final quarter of 2021.
While Coinbase is projecting a far worse Q1 2022, which is why their stock is down on the filings, Q4 and the 2021 yearly filings displayed the strength of one of the world's leading crypto exchanges.
Revenue and Net Income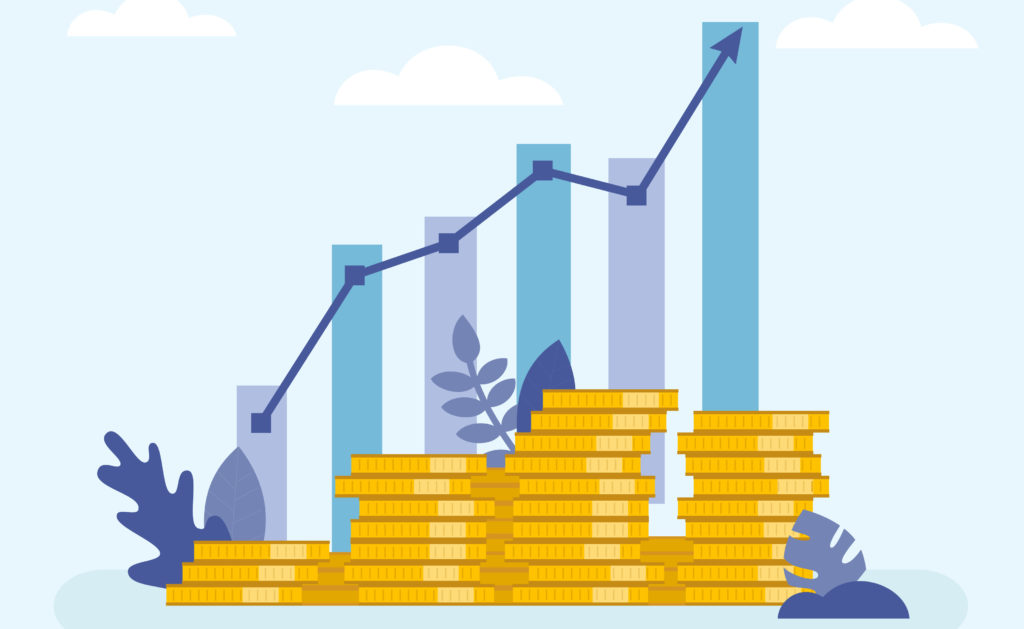 In Q4 2021, Coinbase generated $2.5 billion of net revenue and $840 million of net income, which are approximately double what the company generated in Q3.
Most of this revenue and net income was generated from their trading volume, which hit $547 billion in Q4, an increase of 67% from the prior quarter's $327 billion. Interestingly, non BTC and ETH assets contributed to 55% of the volume.
Currently, the fees Coinbase charges on trading volumes comprises the majority of their revenue. Consequently, the exchange is looking to diversify its revenue streams.
In Q4 alone, Coinbase generated more than $214 million of subscription and services revenue. The subscription and services include the revenue generated from products such as custody, stake, borrow, and lend. Furthermore, Coinbase doubled the number of custody clients they had in 2021 compared to 2020.  Another differentiating revenue stream is Coinbase's OTC brokerage business, which generated $88 billion in Q4 2021, the most of any quarter yet.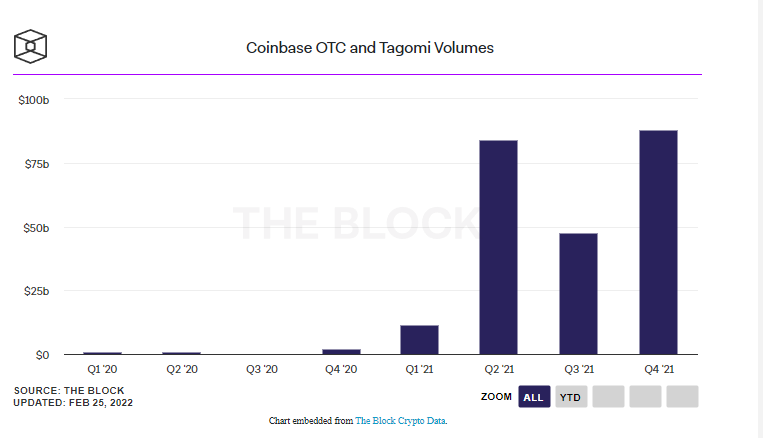 Coinbase's institutional customer base grew by 50% between 2020 and 2o21. While these numbers are impressive, if there was true institutional adoption, one would expect to see exponential growth rather than strong linear growth. Then again, Coinbase is not a dominant player in the institutional space, as I have previously outlined.
In the future, Coinbase believes that they will see dramatic growth in their staking, NFT, and DeFi products businesses.
Users and Platform Assets
By the end of 2021, Coinbase had approximately 11.4 monthly transacting users, with around 33% of those users utilizing both an investment product and a non-investment product.
Furthermore, total verified users reached 89 million by the end of 2021.
In addition to users growth, Coinbase also saw the assets on their platform increase from $255 billion to $278 billion quarter over quarter.
Takeaways
While the Q4 revenue numbers were more impressive than what I had anticipated, Coinbase still has not been able to develop business lines to reduce boom/bust nature of their retail exchange business.
Their user numbers indicate that centralized exchanges still hold a substantial lead over decentralized exchanges in terms of users. For example, Uniswap has around 314,680 MAUs if you add up the userbases on v2 and v3. FTX, another leading centralized exchange, also lags Coinbase, with 5+ million MAUs.
More concerning for everyone is Coinbase expects Q1 to be far more lackluster than Q4 2021. Monthly transacting users are down to about an average of 10 million in 2022 so far, and with everything that is happening with macro, volumes will likely remain low.
Disclaimer:
The Content on this email is for informational purposes only, you should not construe any such information or other material as legal, tax, investment, financial, or other advice. Nothing contained on this site constitutes a solicitation, recommendation, endorsement, or offer by Rapture Associates or Mattison Asher or any third party service provider to buy or sell any securities or other financial instruments in this or in in any other jurisdiction in which such solicitation or offer would be unlawful under the securities laws of such jurisdiction.
All Content on this site is information of a general nature and does not address the circumstances of any particular individual or entity. Nothing in the Site constitutes professional and/or financial advice, nor does any information on the Site constitute a comprehensive or complete statement of the matters discussed or the law relating thereto. You alone assume the sole responsibility of evaluating the merits and risks associated with the use of any information or other Content on the Site before making any decisions based on such information or other Content. In exchange for using the Site, you agree not to hold Rapture Associates, Mattison Asher, and  its affiliates or any third party service provider liable for any possible claim for damages arising from any decision you make based on information or other Content made available to you through the Site.